Rental Filter Skids & Trailers
ESG offers a number of high pressure, skid-mounted portable rental liquid filter units for applications up to 26m3 per minute / 7,000 GPM for a single skid and higher flow rates if using multiple skids.
Rental filter units can accommodate either filter bags or high flow cartridges (both inside to out, and outside to in flow) with filter efficiencies down to 0.5 micron absolute.
Rental units include all applicable documentation (i.e. CRN Alberta, BC, Saskatchewan; ABSA certified) for operations in Western Canada.
Common applications are amine and glycol cleanups, filtration of boiler feed water, injection water, source water, recycle water, co-mingled water, disposal/waste water, brackish water, make-up water, lubricating and hydraulic fluids, produced water for injection in fracking jobs, oil/hydrocarbon removal filtration, hydrotesting filtration, turnaround/maintenance and start-up filtration for commissioning of various heavy oil, oil sands, SAGD, power generation, natural gas processing facilities, petrochemical facilities and pipelines.
Dual 7-60" High Flow Cartridge Filter Housing Skid (14 HF Cartridges)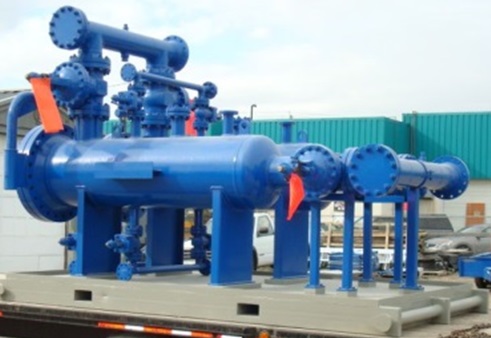 Specs:
| | |
| --- | --- |
| | 4,364 kPa / 633 PSIG |
| |  -20°F / -29°C |
| | 400°F / 204°C |
| | 26m3 /min / 7,000GPM* |
| | 203 mm / 8" 300# Flg |
| | 50 mm / 2" 300# Flg |
| | |
| | 50 mm / 2" 300# Flg |
| | High Flow HFR |
| Total change out of filter bags | 14 (7 per vessel) |
| | 8.5'W x 13'L x 9'H |
| | 7,258Kg / 16,000lbs |
| | Sour |
*7,000GPM is based on clean water. Any contaminants in the fluid will reduce filter life and may result in reduced flow rates
Triple 18-Bag Filter Housings Skid (54 Filter Bags)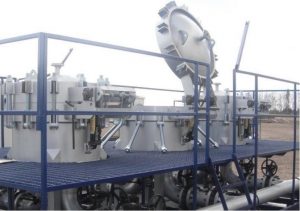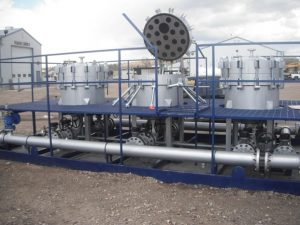 Specs:
| | |
| --- | --- |
| | 2758 kPa / 400 PSIG |
| |  -20°F / -29°C |
| | 400°F / 204°C |
| | 12m3 /min / 3,170GPM |
| |  203 mm / 8" 300# Flg |
| | 50 mm / 2" 300# Flg |
| Extra Valves b/w Filter Housings | 4 x 203 mm / 8" 300# Ball Valves |
| | 25 mm / 1" 300# Flg |
| | Filter Bags |
| Total change out of filter bags | 54 (18 per vessel) |
| | 11'W x 22'L x 9'H |
| | 11,340Kg / 25,000lbs |
| | Sour |
Two of these units are available if necessary
Dual 18-Bag Filter Housings Skid (36 Filter Bags)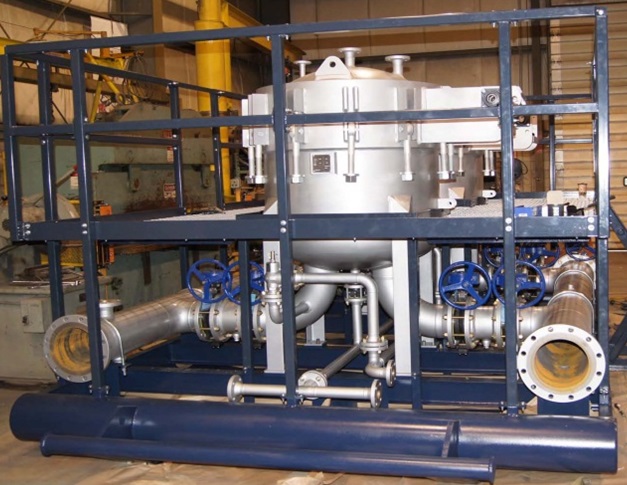 Specs:
| | |
| --- | --- |
| | 1,723 kPa / 250 PSIG |
| | -20°F / -29°C |
| | 225°F / 107°C |
| | 8m3 /min / 2,113GPM |
| | 254 mm / 10" 150# Flg |
| | 50 mm / 2" 150# Flg |
| | 102mm / 4" 150# Flg |
| | 25 mm / 1" 150# Flg |
| | Filter Bags |
| | 25 mm / 1" 150# Flg |
| Total change out of filter bags | 36 (18 per vessel) |
| | 10'W x 18'L x 8'H |
| | 6,803Kg / 15,000lbs |
| | Sour |
Single 740 Style Cartridge Filter Housing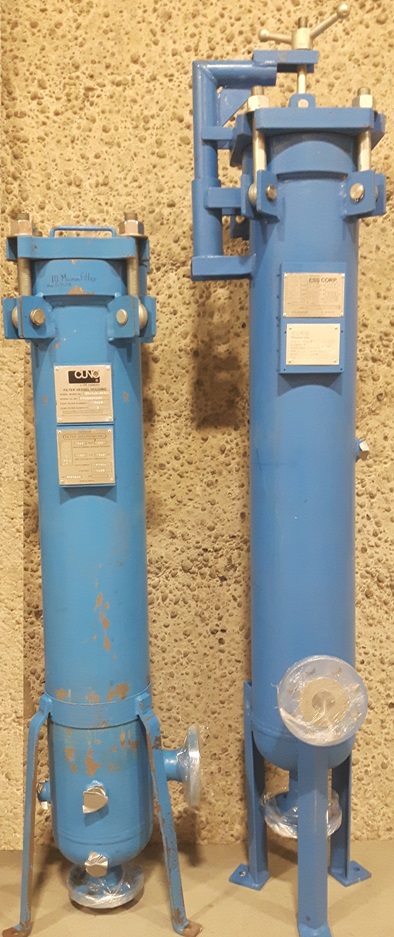 Specs:
| | |
| --- | --- |
| | 735 PSIG |
| | -20°F |
| | 100°F |
| | 60 GPM |
| | 76.2 mm / 3" |
| | 50 mm / 2" |
| | 12.7 mm / 1/2" |
| | |
| Total change out of filter cartridges | 1 |