Headline Filters Limited
& United Filtration Systems, Inc.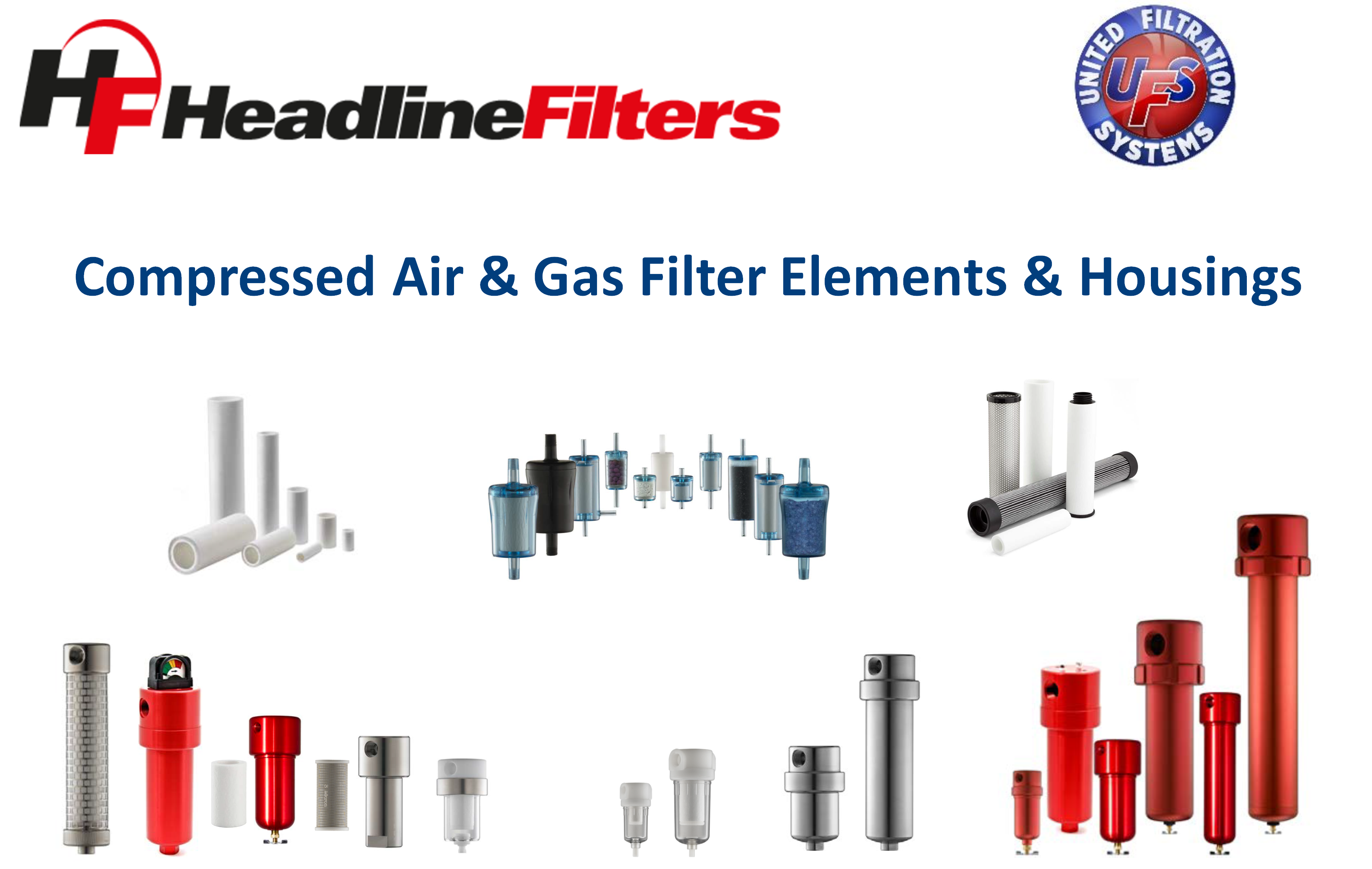 Headline Filters is a UK manufacturer of bonded microfiber filter elements and associated filter housings. These filters are suitable for a variety of gas and liquid applications. There are a number of benefits, offering high flow rates with very low pressure drops.
United Filtration Systems Inc. is a leading worldwide supplier of high efficiency filters for a variety of industries and applications. United Filtration continues to invest in filter products that compliment Headline, such as its membrane separators, CNG, Alternative Fuel filters, Onstream liquid filters, and emission testing products.
This offering includes disposable inline filters & absorbers, emission filters, compressed air filters, gas filters, stainless steel filters, exotic filters, analyzer filters, guardian membrane separators, fast loop filters, high pressure filters, natural gas filters, plastic filter housings, adsorption filters, dehydration filters, and more.
Natural Gas Filters
Some common housing model numbers are 315A-1/4, 360A-1/4, 360A-1/2, 360AI-1/2, 370A, 370AF, 380A-HP-1, 380A-HP-3/4, 380AHP-1-ADS-SG, 385AHP, and 390AHP.
Compressed Air & Gas Filters / Regulators
Comprehensive range of solutions for instrumentation, natural gas, analytical, and fuel gas filtration. A well-designed coalescing filtration system will essentially remove all solid and liquid contamination, with minimum maintenance and operating costs. Headline coalescing filters remove 99.99% of solid and liquid particles and aerosols down to 0.1 micron, producing truly clean compressed air.
Coalescing and Particulate Filter Elements
Wide range of efficiencies with disposable microfiber elements, sintered polyethylene (PEL), stainless steel, PTFE, and exotics.
Common element part numbers are 12-57-50C,12-57-70C,12-32-50K, 25-64-30CS, 25-64-50C, 25-64-70C, 25-64-50K, 25-178-60C, 25-178-70C, 38-152-70CS, 51-230-70CS, TRE38-152-70CS, TRE51-476-3PLGRB, 51-230-50CS, 51-476-70CS, 51-476-03PLGS-R, PEL25-178-25, SS-140-10, SS-140-50, SS-130-100.
Filter Elements
High Pressure Filters
High pressure compressed gas systems offer unique challenges to the removal of liquid and solid contaminates. High Pressure filtration, by its nature is very demanding because of the intense pressure. These filter housings are ideal for this service since they are 100% machined, not cast, and utilize captured o-rings for positive sealing.
Stainless Steel, Exotic & Analyzer Filters
Options for the sample conditioning, analytical, natural gas and petrochemical markets.
Some common housing model numbers are 122, 130, KZ130HP, 132, 142, 140HP, 150, and 160.
Plastic Filter Housings
Designed for low pressure, low cost OEM applications. The nylon assemblies are well suited for coalescing service and corrosive applications because of their chemical resistance.
Disposable Inline Filters (DIF) & Adsorbers
Disposable In-Line Filters (DIF) consist of permanently welded housings with encapsulated filter elements. Disposable In-Line Adsorbers (DIA) units contain a bed of adsorption granules.
A common part number is DIF-BN60.

Disposable 0.2 micron PTFE Syringe Filters
Filters For Emissions Testing
Wide variety of disposable microfiber grades and binder types to protect your analyzers while delivering a clean and true sample for exact gas analysis.
Guardian Membrane Separators
Guardian Membrane Separators series of filters is the ultimate in sample conditioning filtration.
A common part number is MT.33.M2.
Fast Loop Filters
Fast Loop filters are specially designed for heavily contaminated liquid sample analyzers. The continual liquid sweep flushes the filter, while providing a clean sample with minimal filter maintenance.
Onstream Liquid Filter Housings
These housings are designed to remove particles from various liquids even the most demanding applications.
Balston® / Finite® Cross Reference Charts